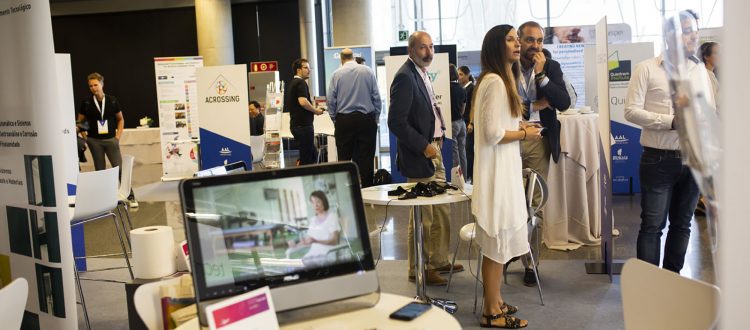 Who's exhibiting at the AAL Forum Exhibition? Part 2
As the organising of the AAL Forum 2019 is well underway, we are starting to take a look at some of the many exhibitors already getting ready to meet, greet and share with you their expertise, product, project or experience in the field of healthy ageing.
With 40 exhibitors already signed up to the AAL Forum Exhibition 2019 and many more lined up, this year is set to be more interactive, exciting and dynamic than ever before.
Last week we revealed just a few of the exhibitors of the AAL Forum 2019, as the run-up to the forum taking place at the end of September, we will be introducing you to these exhibitors.
See list of exhibitors.
---
Sarita CareTech
Sarita CareTech will be exhibiting three products, Sarita Pearl a call button wearable piece of jewellery for older adults; Sarita Lighthouse for care institutions to manage emergency alerting; and Sarita Family which is an app for informal caregivers. All three products are developed in close collaboration with formal and informal care institutions, and the elderly, which has led to more successful adoption. The technology is supportive for daily operations, safety and reassurance and ultimately allows older adults to maintain a healthy lifestyle.
Sarita CareTech is a Danish start-up which creates emergency alert technology with a human-centred design approach that is equally aesthetically pleasing and technically fitting for caregivers and the elderly.
---
ZiboCare with Sens-Aid
Sens-Aid is an innovative multi-purpose wearable tool, a weighted blanket with six enveloping wings that stimulates the body's touch and position senses to release the feeling of well-being and calmness throughout the body to cope with various involuntary movements, concentration problems and cognitive impairments which can cause stress and restlessness. Sens-Aid is relevant for hospices, care centres and for home use to reduce visual and auditory stimuli which might be distressing from the outside world at both day and night times.
ZiboCare is an innovative company based in Denmark offering competent advice, products and services for users, carers and relatives in the healthcare sectors.
---
Otiom
Otiom is a device used for tracking people with dementia. Unlike traditional GPS devices, Otiom only need to be charged on average once every two months compared to every two days. Otiom is also passive, only locating when the user leaves a predetermined safe zone, alerting relatives or caregivers so they can quickly find help and prevent the risk of accidents. The device has many other advantages including, it is uncomplicated with no buttons, machine washable and fitted with an intelligent battery.
Otiom is Danish-developed and produced, and the result of an 18 month development process with people suffering from dementia, their relatives and caregivers.
---
FLINK
FLINK is a communication app for everyone of all tech-capabilities, making it easy to stay in touch with friends and family. The app addresses how older adults are being excluded from mainstream digital platforms such as Whatsapp by creating an easy-to-use communication tool via messages, pictures and video. The app is customisable to each users unique technology level, and these can be constantly adapted to match their learning development. The aim is to make digital communication accessible to all and foster a better social life and great family relations.
FLINK, founded in January 2019, has 221 users across 104 families with more than 1,700 moments shared between families. The app can be downloaded to iOS and Android. Check out the video.
---
Aktiv Interaktiv with OmiVista Mobii
OmiVista Mobii is an interactive table and floor technology where activities and applications are projected onto the floor or table and users (of all ages) use their hands or feet to play on the device. This product helps strengthen cognitive abilities and memory, trains movements that might be a challenge normally, and encourages conversation, laughter and community interaction. There are 350 activities available, plus the option to customise activities with personal photos, videos and music. 
Aktiv Interaktiv Aps has more than 15 years' experience making them a strong partner in the market of sensory experiences and interactive solutions. It delivers welfare technology for users in care homes and rehabilitation centres for bot h the elderly and the young. Check out the video.
---
Exthex with projects DAPAS and SUCCESS
Exthex focuses on research for future AAL, IoT and smart home markets and at the AAL Forum will be exhibition two research projects, DAPAS (deploying AAL packages at scale) and SUCCESS (successful caregiver communication and everyday situation support in dementia care). DAPAS supports older adults to become more independent in their daily life to manage tasks and encourage cognitive training. SUCCESS is an innovative mobile training application to support formal and informal caregivers to help them interact and communicate with dementia sufferers.
Exthex is a research and development SME that focuses on close-to-market operations. Ethex creates spin-offs based on the results of successful research projects and helps to establish them on the market for the long-term.
---
Be sure to take time to visit the AAL Exhibition during the forum.
 or