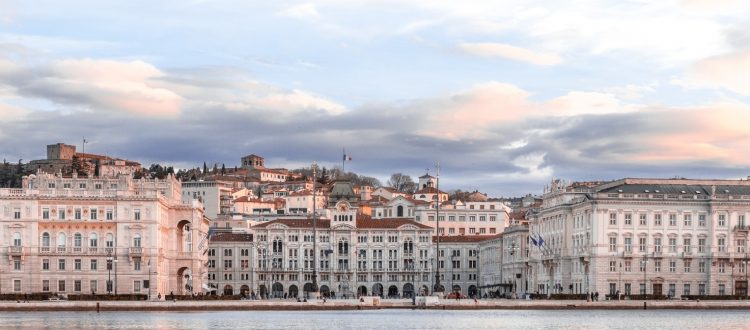 Trieste, a city where people age well and healthy
TRIESTE, is the capital of Friuli Venezia Giulia, a region in the heart of Europe, easy to reach by any means. With a striking and varied landscape that transforms multiple times within a radius of a hundred kilometers.
The city of Trieste stands out over the blue sea and sky on the furthest patch of the Italian Adriatic and appears like a last Mediterranean mirage for those following this northern stretch of the coast; Trieste's originality and diversity are brought together in street after street, squares and palaces which almost entirely retain their testimony to Roman, Venetian and above all Austro-Hungarian architecture.
The crossroads of culture that animate this Julian regional capital are expressed through a rich and extremely varied museum network, a large number of historical cafés and literary thoroughfares where you can relive the experiences of writers Italo Svevo, Umberto Saba and James Joyce.
The heart of the city is the most beautiful and most symbolic of all its squares, Piazza Unità d'Italia, known as the largest square, situated next to the sea in Europe. Several prestigious and important buildings line the square including the Town Hall, the Palazzo del Lloyd Triestino, the Palazzo del Governo and the Palazzo Pitteri – Each of which features a stunning design and beautiful architecture that perfectly summarise Trieste's history.
Trieste is known as a centre for advances research in the sciences, an important commercial port and as a hub of major transoceanic routes, drawing a large number of conference tourists, as well as those attracted simply by the city's cultural treasures and outstanding natural setting. Trieste is a manageable city of easy proportions, another positive aspect in its favour, especially for visitors.
It's impossible to talk about Trieste's melange of cultures without mentioning food.  Austrian and Slovenian influences are quite strong: everywhere you go you'll encounter "buffets", dark inviting taverns that originally served fast food to sailors and dockers.
This is going to be the scene for setting the next AAL Forum 2021. Quiet of a remarkable and inspiring place to visit, isn't it? If you want to join us for another vibrant event and to discover more about this gem of Italy, registration will be available soon.