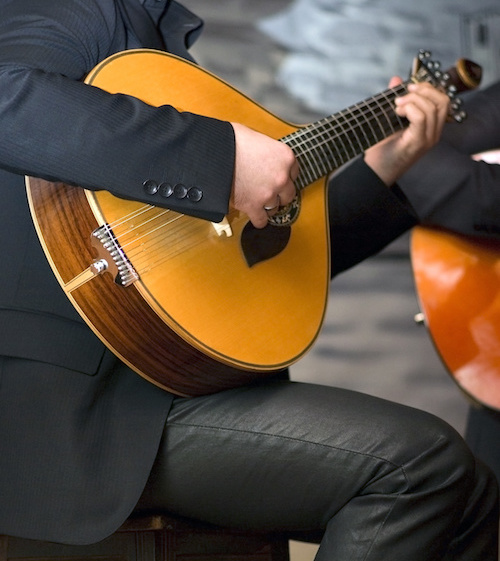 Fado, the music of Portugal
A melody that expresses the Portuguese spirit, veiled in yearning and sweet melancholy yet tinged with joy and hope, fado is one of Europe's most beautiful musical styles and is still traditionally celebrated in the cities of Coimbra and Lisbon.
The music genre originated in Portugal in the early 1800s but only began to appear in Lisbon after 1830 before finally finding a popular rhythm in the early 1900s and one that is still followed today. Literally meaning 'fate' or 'destiny', fado uses mandolins and a Portuguese 12-string guitar to accompany one singer, creating the pained melody that draws the listener in as it seeps through the streets.
Whilst Lisbon's fado is considered the more well-known style, Coimbra has its own distinctive one that adds to the magic that already threads through the old cobble-paved streets of the cities winding alleyways and enchanting squares.
Away from the tourists in Lisbon, Coimbra offers you a more serene opportunity to nestle down, amongst a student buzz that is beautifully mismatched against the city's history, and immerse yourself in the story being told behind the music.
Fado is usually sung at night time with musicians wearing the traditional academic wardrobe of the University of Coimbra – dark robes, capes and leggings. Only sung by males, Coimbra fado is about finding hope in everyday hardships and reflects upon the humour, nostalgia, tragedy and happiness that comes with life. Be sure to listen out for hints of the sorrow derived from traditional fado based on the real love story of Dom Pedro and Dona Inês that tragically took place on the same streets 700 years ago.
As a day at the AAL Forum ends and the night begins to reveal a new dimly golden lit Coimbra, be sure to find yourself a square noisy with students or an intimate corner and listen to this country's most loved and wondrous sound.