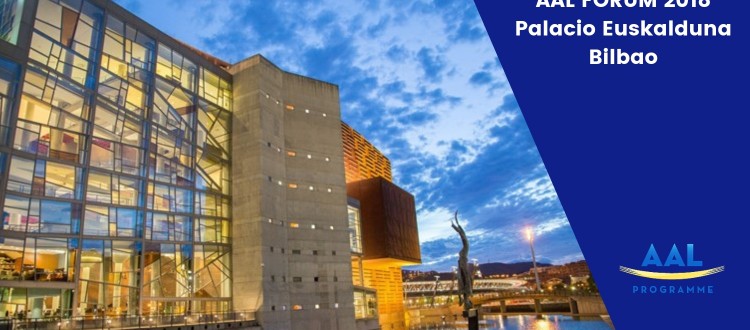 The Euskalduna Conference Centre, symbol of Bilbao's industrial regeneration
With just a short time to go to the 20th anniversary of the opening of the Euskalduna Conference Centre (the venue of the forthcoming AAL Forum 2018), Bilbao's modern and versatile conference centre and concert hall has undeniably become one of the flagships of the transformation process of the capital of Bizkaia and one of the symbols of the new contemporary architecture that has  turned Bilbao into one of Europe's most avant-garde cities
The Euskalduna Conference Centre –named as the World's Best Congress Centre in 2003– owes its name to the fact that it was built on the very land that had been home to the Euskalduna shipyards for over a century. The design of the centre (by the architects Federico Soriano and Dolores Palacios), resembling a ship being built, along with the material chosen to construct it, Corten iron, typical of the ships built in Bilbao,  is none other than an allegory of its naval past.
Nowadays, the conference centre is the main business and leisure centre not only for Bizkaia, but for the Basque Country as a whole. Built by Bizkaia Provincial Council (Government of Bizkaia), it can host multiple congresses and shows at the same time thanks to its surface area of over 60,000 m2 (after the extension between 2001 and 2012). The important thing is that it is one of the conference centres with the highest annual average occupancy in southern Europe (over 90%) which guarantees its profitability every year.
Apart from its business use, the building – centrally located and easy to reach- continuously hosts numerous performances and leisure events, including the annual    ABAO opera season (Bilbao Association of Friends of the Opera, one of the most prestigious opera organisations in the whole of Europe).  It is also the permanent home of the municipally-owned Bilbao Orkestra Sinfonikoa (BOS).
Another of the Euskalduna Conference Centre's key strengths is its culinary excellence. It boasts two top-class restaurants on the premises, in addition to the coffee shop on the ground floor. Both the Restaurante Jauregia, specialising in traditional Basque cuisine, and the more recent Eneko Bilbao, run by the acclaimed Basque restaurateur  Eneko Atxa (with several Michelin Stars under his belt), feature local produce in dishes to delight everyone
Don't miss the opportunity to visit the Euskalduna Conference Centre during the AAL Forum 2018, which will be held between 22 and 26 September. Sign up here if you wish to go on one of the guided tours of this spectacular conference area and discover  the history of a magnificent conference centre, along with enjoying the breathtaking views over the Abandoibarra district from its outdoor panoramic lifts.