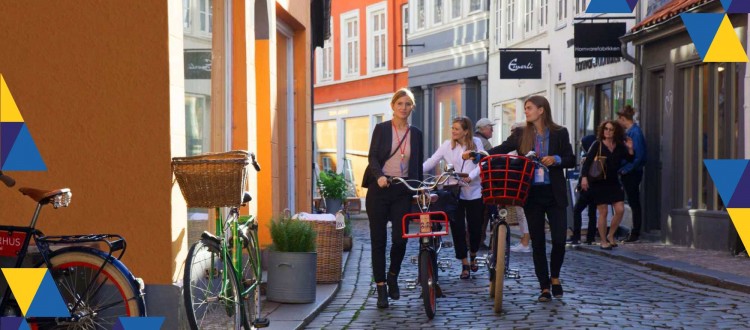 Push aside the association of Denmark as Copenhagen and you'll discover the smaller, but no lesser, city of Aarhus. A scholarly-town atmosphere gives way to a kaleidoscopic youthful food and drinks scene, fascinating artwork and a rich history that mix together to offer cosiness with a vibrant energy.
In 2017, Denmark's second largest city, Aarhus, was swept out from Copenhagen's shadow, claiming the accolade of the European Capital of Culture to reveal a town that has been brimming with beauty for quite some time, just simply left unfamiliar.
Like most Scandinavian cities there is a high happiness rating, a strong café culture, clean streets and bicycles everywhere. The compact walkable city may indeed be similar to the capital in a lot of ways, but it offers a huge amount more which is seeing swathes of visitors quickly fall to its charm.
The spirits of the city's residents, 10 per cent of which are made up of students, are riding high and you get a sense of this lively energy as you explore Aarhus's attractions, whether that be by foot or bicycle. Some of which include:
---
FOR THE FOODIES
A visit to Aarhus wouldn't be without dipping your fingers in all the culinary delights it has to offer. Nordic cuisine has sky-rocketed in the past few years, showing flair and innovation that has become world-renowned, and Aarhus boasts a number of Michelin-star restaurants and a street-food market to rival any. Whether it be a traditional smørrebrød or an eye-popping fine-dining experience, the produce is organic and tributes to the nation's firm concept of earth to plate to soul.
---
FOR THE CRAFT BEER FANATICS
Craft beer is sweeping through Aarhus, turning it into a must-visit destination for a tipple or three of the city's own microbreweries and brewpubs pours. Being on the smaller scale to Copenhagen, Aarhus' craft beer bars are easy to walk between making it dangerously easy to visit and taste more delights the city has to offer. Favourites include: Fairbar and Mig og Ølsnedkeren.
---
FOR THOSE LOOKING FOR WELLNESS
Hygge, pronounced hoo-ga, is the Danish concept that translates to the feeling of cosy contentment and well-being through enjoying the simple things in life. This way of life can be easily experienced in Aarhus by taking a little time to take comfort in relaxing in one of the many cafes. Simply take a stroll and you'll soon stumble across plenty of atmospheric coffee bars.
---
FOR THE ARCHITECTS
Take a meander around the city and it will be hard to miss the novel architecture already beginning to rise and make a statement. From the University with its stunning architecture; Dokk1 which sits on the waterfront and boasts Scandinavia's largest library, the Iceberg, a vibrant new neighbourhood rising and falling into peaks and valleys like floating icebergs on the harbour's edge; walk the rainbow and have a panoramic view of the city at the ARoS Museum of art; or swim in the Harbour Baths.
Aarhus awaits! Register your attendance at this year's AAL Forum.