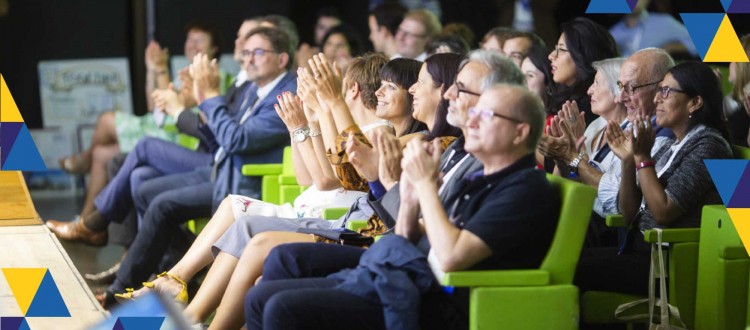 AAL Forum 2019 – a great opportunity for AAL Projects
The AAL Forum is back for its 11th year, bigger and better than ever before and returning to Denmark after 10 years, this time to the vibrant Danish city of Aarhus which will be its grand stage for September 2019.
Taking place from the 23-25 September 2019, this year's AAL Forum is diving headfirst into empowering senior citizens to be independent through the implementation of ICT breakthroughs in the silver economy. 
For AAL projects attending the forum and actively participating in the largest European event for ageing well in the digital age is a privileged opportunity not to be missed. This year, there are expected to be more than 800 delegates, making it the biggest gathering of people working in this sector of the year.  
And Aarhus is the perfect host city. Having itself already invested considerably in the adaption of new technology and in welfare rehabilitation services for its citizens and employees, and coining itself the 'caring municipality', this cutting-edge city is a living example of this year's theme of "smarter practical implementations of new technology to enhance active and healthy living".
As an AAL project, you will have the chance to take part in a packed programme of discussion, debate and collaboration with potential new project partners, discover new and potentially disruptive technologies and solutions that support active and healthy ageing and immerse yourself in many high-quality interactive organised workshops with like-minded project and business specialists.
Tickets for AAL projects are at incredibly low prices with a three-day ticket for as little as 240 € making it the perfect avenue covered by your project's communication budget.
Details on registering as an AAL Project Participant can be found here.
---
AAL EXHIBITION – SHOWCASE YOUR AAL SOLUTION
The AAL Forum is an unmissable opportunity for you to showcase your project – and the results you have achieved. Whether you have a product or solution in development, already at a mature stage or whether you have a viable product on or ready for market, the exhibition arena is your stage to attract peers, buyers, investors and collaborators to boost your potential.
Expected to be the largest exhibition yet, with 90 exhibitors including the likes of some leading Danish and international active and healthy ageing companies with leading products and solutions, you have the opportunity to gain two full days of prime exposure and promotion at this buzzing event and put yourself at the heart of active and healthy ageing in Europe.
---
CALL FOR POSTER PRESENTATIONS
In addition to participating in the workshops and AAL exhibition, as an AAL project you can present your latest results and ongoing research in the form of a digital poster to be presented orally. Over the years, previous participants have received notable feedback during and after this highly-acclaimed event from various stakeholders and end users which has been invaluable to the progression of their work.
Six thematic areas have been identified to run through the AAL Forum and poster presentations should correspond to one of these themes.
Learn more about the call for poster presentations.
Your 10-minute poster presentation is an excellent way to make your mark at the forum. Submit your proposal by filling in this form.
The deadline for submission is 29 May 2019.
---
NETWORKING
The AAL Forum is never a passive affair and for 2019 the opportunities for connecting and talking will also far exceed those of previous years. By attending this annual event, through the significant networking possibilities and alternative social events with Aarhus' older citizens and experts in the field of ageing well, you will have the space to build relationships, start possible new ventures and make a difference for healthy ageing, social inclusion and welfare technologies of tomorrow.
---
FUTURE FUNDING BEYOND 2020
As well as celebrating one of the biggest AAL Forum's to date, by attending this event, you will be immersed in planning the future for AAL in the form of the forthcoming new scheme for projects and the nurturing of ideas in the active ageing market place. Your AAL project is a vital part of this exciting new phase for AAL, which is why it is important for you to hear what key European figures have to say about the plan for the coming years in health and care in the ageing sector – and for you to let them know what you think, too.
Registration is now open, with AAL Project Participants receiving BIG discounts.
Don't miss out on the largest and most rewarding AAL Forum ever!