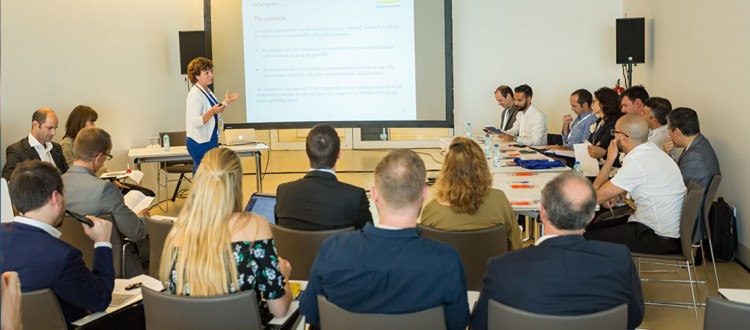 Workshops at the AAL Forum 2018
Once again, the AAL Forum will be showcasing some amazing technology, addressing this year's main topic – "AGEING WELL IN THE DIGITAL AGE: A growing community of change makers"
During the forum we will be exploring how AAL technology and solutions in Europe acknowledge and overcome the obstacles between progressive everyday technology and vital human connections and social interactions.
You are encouraged to actively take part in workshops and sessions divided across five thematic tracks that act as the pillars of the 2017 Forum.
Theme 1: DEMAND-DRIVEN TRACK: REGULATED MARKETS
This theme aims to engage the demand side of Active Assisted Living regulated markets in health, care, wellbeing, housing etc., presenting complementary perspectives influencing the AAL solutions roll-out. Among them, we expect that different perspectives may be presented, from real application cases to understanding the policy environment and the future dynamics, such as within:
Pre-commercial procurement (PCP) and Public Procurement Innovation (PPI) projects
Local and Regional Authorities (LRA) solutions
Smart Specialization Strategy (RIS3) implementation
Theme 2: LIFE AFTER AAL – ENSURING AAL SOLUTIONS GETTING TO THE MARKET
This theme aims to focus on what remains to be done after an AAL project has finished, in order to ensure that the project results are deployed. There is a need to better understand the landscape of the public and private financing opportunities for effective projects.
The Committee aims also at involving actors who already received support to get to the market and others who are looking for that, so as to present their experiences and share practices. Understanding individual paths is one way to understand trends and collect lessons learned that influence future stakeholders in their way to the market.
In this sense, the Committee would also like to listen to the learning from failures – what did you learn from your errors or flops and how sharing them may prevent others from experiencing the same failures. It may aso be interesting to share what could be the role of large companies in the scalability of good projects.
Theme 3: BUSINESS TO CONSUMER MARKET: THE SILVER ECONOMY DIMENSION
This theme aims to better understand the role of market segments in the silver market and how this can bring about the desired social changes.
How to address this growing consumer segment of the 'NewOld' from a business and market perspective (in tourism there are good cases for example)?
How are companies working in the Silver Market and positioning themselves? Can we already describe it as a segment or a niche?
And the entrepreneurship of seniors? How is it already applied in practice to cope with Europe's demographic change challenge? How could this help AAL and how may AAL solutions help to support this development?
What are existing marketing strategies in the 'ICT for ageing' domain?
Theme 4: AAL-RELATED ECO-SYSTEMS
This theme aims to investigate how to enable/strengthen AAL application area-related ecosystems. The Committee would like to bring in examples on integrating AAL solutions into the below AAL application areas as well as potential additional areas.
Theme 5: OPEN FOR SUGGESTIONS
This theme aims to cater for any relevant thematic that is not included in the above themes, especially aiming at fostering the networking amongst the various stakeholders within the AAL arena.
Don't miss out! This year is set to provide a fantastic opportunity to be a part of the latest advances in the AAL community and have your say in what you really think about the gaps between technology and active ageing. Go to the "
Call for workshops
" page for more information and apply now!!!