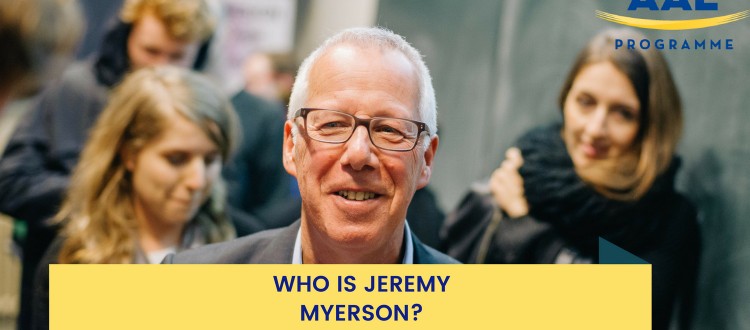 Jeremy Myerson is in his early 60s, knocking at the door of the 'ripe-old age' of 65. Is he old? Is his time for living life to the fullest coming to an end? In some cultures, it would be, but in Myerson's eyes and in AAL's, it's far from it.
Jeremy Myerson is an established author, an academic and above all, an activist in design. More importantly, he is a designer who encourages design that improves quality of life.
An Honorary Fellow at the Oxford Institute of Population Ageing and the first-ever holder of the Helen Hamlyn Chair of Design, Myerson's work has become an inspiration for those looking to elicit advances from the ageing demographic shift.
From being a professional journalist and founder-editor of Design Week, writing 18 books and co-founding the Helen Hamlyn Centre for Design at the Royal College of Art, which he directed for 16 years, to sitting on the advisory board of various national design institutes, his work and research has always promoted design that looks to remove the gaps between ageing, health and work.
What has he done?
Aside from the plethora of impressive accolades, Myerson has been actively involved in the emerging new old campaign.
In 2017, Myerson curated the NEW OLD: Designing for our Future Selves exhibition at the Design Museum in London. The exhibition was organised into six sections: Ageing, Identity, Home, Community, Working and Mobility. Showcasing design talents from around the world, Myerson wanted to address the vast potential in the new old, from architecture to technology, from digital applications to redesigning domestic appliances.
Likewise, at the beginning of 2018, Myerson presented at a TEDx event on, 'Why do we abandon great design when it is for 'the elderly'?' and made a powerful case for using design to keep older people active and fully integrated in society.  
Hear Myerson speak
A figure-head in the world of design and active ageing, AAL is eager to announce that Myerson will be the keynote speaker for the AAL Forum 2018 in Bilbao. Myerson will be sharing his thoughts and expert insight into how we should be overcoming the stigma of growing old, on Monday 24 September during the opening ceremony.
This is sure to be a talk you cannot miss so register here and take advantage of our early bird prices.
INTERVIEW with JEREMY MYERSON COMING SOON!