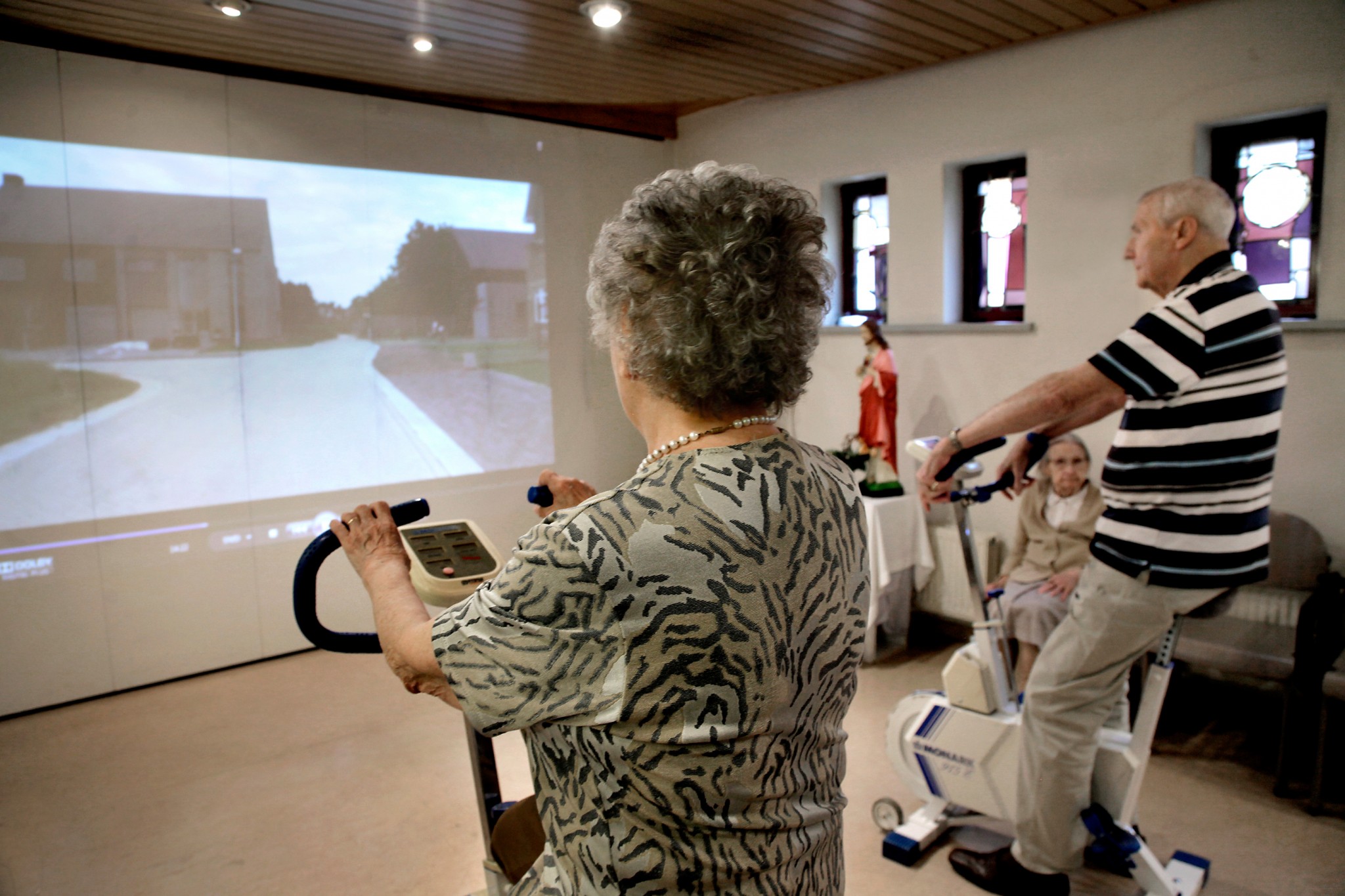 AAL Smart Ageing Challenge Prize – Cycle the world from your living room
An idea that took root in a nursing home called Witte Meren in Mol in Belgium has been shortlisted to receive the AAL Smart AGeing Challenge Prize. What began as a vision in the mind of Witte Meren's director Jan Smolders on how to keep his inhabitants physically active in a safe, motivating and fun environment may now be on the verge of international breakthrough.
Jan's brother Roel, who was working as a health technology expert at the Flemish Institute of Technological Research, took an interest in the project and the two siblings teamed up. When Wannes Meert and Jesse Davis joined the group, Activ84Health was born.
Activ84Health develops technology that offers older people who can no longer get out and about a window on the world (the Activ84Health Explorer). The smart system allows users to freely explore towns and countryside while cycling on a stationary bike from the comfort of their own home. Autonomy and the stimulation of reminiscences are two of the core values that drive this innovative start-up company to provide quality of life, both at a physical and cognitive level of well-being, for its users.
Now Activ84Health has been shortlisted for the first ever Active and Assisted Living (AAL) Challenge Prize, which is awarding €50,000 for the best product or idea that uses internet connectivity and the internet of things (IoT) to empower older adults to achieve the quality of life to which they aspire, socially and independently.
Using Google Streetview connected to a bike, cloud-based software and touch screen controls, the Activ84Health Explorer has been designed to allow older people, unable to get about as they once could, to explore familiar areas from their past. As well as stimulating memories, this activity also prompts social interaction in the home, while at the same time providing a valuable exercise routine. Each user has an individual profile, which allows the platform to take into account personal physical and cognitive abilities.
According to Roel Smolders, CEO of Activ84Health, receiving the AAL Award would provide a tremendous boost to support Activ84Health's international ambitions. "The AAL is widely recognised as the pinnacle of active and healthy ageing technology in Europe, and their recognition could open up whole new markets, partners, and opportunities for us," he says. "The monetary prize would allow us to develop new features and functions for our platform, which would even further increase its value for the users. We have plenty of ideas on how to create great new experiences, but our focus on user-centred design implies that new developments take lots of time, testing and end-user consultation."
15 entrants from a healthy total of 200 have now been shortlisted for the prize and thse finalists will now attend a special Innovation Academy in Brussels in July, where their ideas will be further scrutinised by the judges and where they will also receive advice on how their ideas can be further commercialised for what is a massively growing market.
"We were delighted by the variety of entries we received," says Karin Weiss, Deputy Managing Director and Head of Grants at the AGE Foundation and one of the competition judges. "We saw many interesting solutions and were particularly impressed by the approach taken to bridging the gap between the older and younger generations, as well as the approach to stabilising the quality of life at home for older people.
"The challenge now is to identify a winner that is exciting, commercially viable and close to the edge of the market," she adds. "We want to see the prize being used to connect this potential with investors, refining the prototypes and creating impetus to get the solution to market."
A huge amount of work is being done in the Flemish region in the sector and, with Activ84Health already engaged in developing solutions designed to increase the quality of life for older people, hopes are high that this simple, smart solution will pick up the top prize when it is announced at the AAL Forum, being held at St Gallen, Switzerland, in September.
For more information about Activ84Health, visit: www.activ84health.eu or contact Roel Smolders at roel@activ84health.eu (Tel: +32 486 206407).