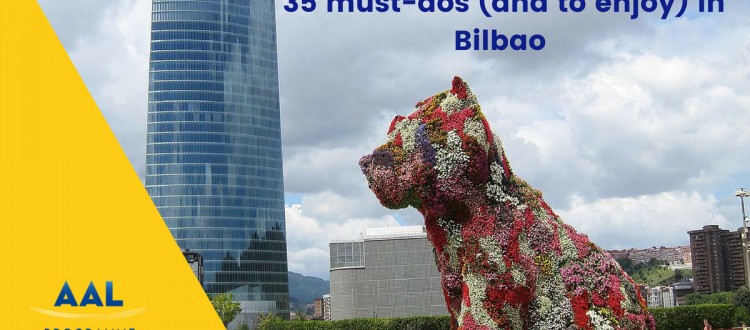 35 must-dos (and to enjoy) in Bilbao during AAL Forum 2018
Bilbao, the capital of Bizkaia, -the host territory of the forthcoming  AAL Forum 2018– boasts many spots and places to show (and for the enjoyment of) all its visitors. Sights, which in addition to being very interesting, are particularly suitable for everyone, even people with reduced mobility.   
This Basque city, which is the largest and most important one along the Bay of Biscay coastline, has so much to offer in many different areas including architecture, culinary experiences, culture and sport, leisure, shopping or even quality of life, all of which are extolled by locals and visitors alike. Here are some musts for your forthcoming visit to Bilbao:
1.- Architecture (12 must-dos)
2.- Culinary experiences (8 must-dos)
3.- Culture (7 must-dos)
Bilbao Fine Arts Museum –

This museum in Bilbao, set in a magnificent urban park, houses a collection of over 7,000 works, most of which have been donated by the city's dignitaries, and heads of industry and business.  It boasts one of the best art galleries in Spain.

Bilbao Museum of Art Reproductions

– One of the best museums in Europe with a collection of exact copies, particularly of classical sculptures in other museums. Particularly noteworthy is Michelangelo's Moses or the Venus de Milo.

Basque Museum

– The best collection of Basque Art in the centre of the Casco Viejo.

Maritime Museum

– Interactive museum (centrally located within a stone's throw of the Euskalduna Conference Centre) paying tribute to the maritime past of Bilbao and Bizkaia.   

Athletic Club de Bilbao Museum

– Athletic de Bilbao, one of the top tier clubs in Spanish football, is an institution in the city. It is the only team in Europe whose members are all home grown, i.e. born or from the Basque Country or which have always professionally played for local teams. Its modern stadium, San Mamés, known as the cathedral of Spanish football, has a (very) interesting museum on the club's history.

Arriaga Theatre

– The city's main theatre (

guided tours of the impressive building can be arranged

)

Campos Elíseos Theatre

– The modernist façade of this recently refurbished theatre is stunning. There is a restaurant on the upper floor.
4.- Other recommendations (8 must-dos)
Enjoy Bilbao!
The AAL Forum Team