Conference Location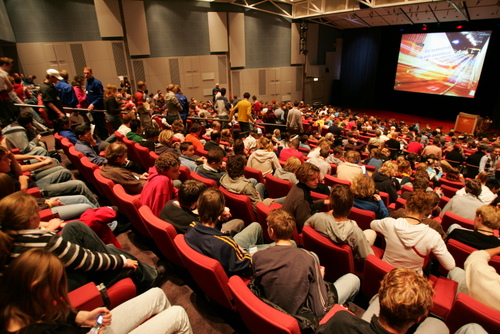 Evoluon
The Evoluon is the most famous building in Eindhoven and the surrounding area. Its striking exterior exudes innovation and progress. It is unique and distinguished – the icon of an ambitious and creative region.
The interior of the Evoluon is very special, as well. You will be impressed! This makes the Evoluon an inspiring venue for conferences, events or meetings. All rooms are fitted with all modern comforts and conveniences.
The impressive dome, with its four concentric rings, has a floor space of no less than 2700 m2, making it suitable for gatherings of up to 1200 visitors. The meeting rooms and VIP suites are named after the planets and stars.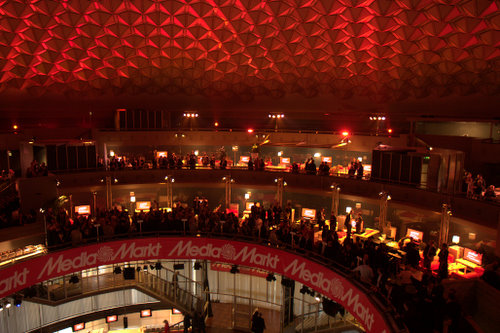 The Dome
The dome is an ingenious piece of futuristic architecture that was designed by the architect Mr. Kalff & Mr. van Beveren. It measures 77 metres in diameter and stands on 12 v-shaped columns.
The relaxed ambiance in the dome makes it ideal for large gatherings. The height of the space creates a sense of openness and freedom. It is the perfect setting for conferences.
The Rings
In the past, the four concentric rings were used to house permanent exhibition. This was where you could enjoy endless interaction with hands-on exhibits and experience all manner of things. You could play with technology and marvel at the possibilities. The exhibition may have gone, but the interaction and marvelling still goes on!
Today the rings continue to have a prime function. It is here that we are planning to host the exhibition booths.
The ceiling of the dome is inspiring from every perspective. The Evoluon gives you exactly what you need! The sky is the limit.
Contact information of the Evoluon:

Noord Brabantlaan 1a
5652 LA Eindhoven
+31 (0)40 250 46 66
For more travel information, please have a look at our page "travel information"